Political Participation: Women in Parliament
Women's participation in parliaments in 2012 ranges from 11,7 - 42,0% in single house or lower house, although the average participation of women in National Parliaments single house or lower house is 19,9 %.
Source: IPO.org
Proportions of Seats Held by Women in National Parliaments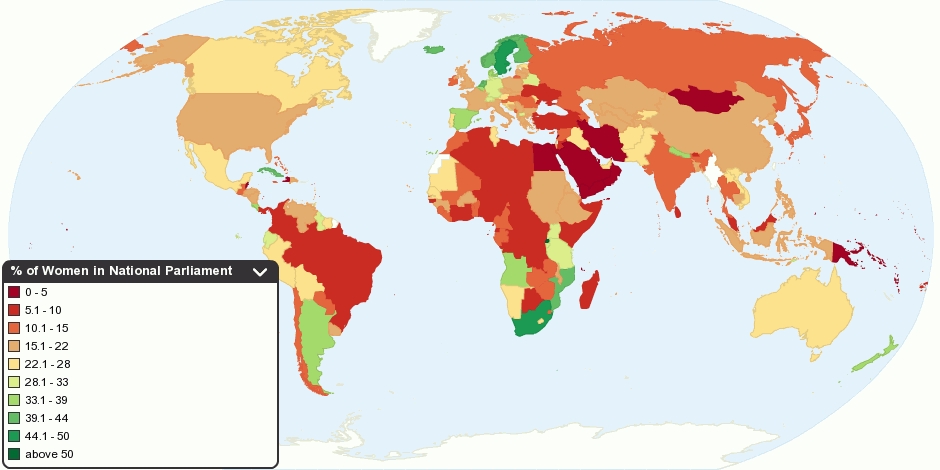 More information on PeaceWomen theme Participation

Women in Peace Processes
Peace Negotiations: Women's participation in peace negotiations remains ad hoc, not systematic. The average numbers of women participating in peace negotiations in official roles—as negotiators, mediators, signatories or witnesses—remain notably low. A sample of 24 major peace processes since 1992 reveals that only 2.5 % of signatories, 3.2 % of mediators, 5.5 % of witnesses and 7.6 % of negotiators are women.
No women have been appointed to Chief or Lead peace mediators in UN-sponsored peace talks.
Peace Agreements: Ten years after the adoption of resolution 1325 (2000), gender-blind peace agreements are still the norm, rather than the exception. A thorough and systematic review of 585 peace agreements revealed that between 1990-2010, only 92 peace agreements (16 %) have contained at least one reference to women or gender.
Read more on Women's Participation in Peace Negotiations: Connections between Presence and Influence 2010

One of the commitments from the Secretary General's report of Women's Participation in Peacebuilding 7 point action plan is that UN entities will take more systematic action to ensure women's participation in and the availability of gender expertise to, peace processes. This will be measured by: Appointment of women as chief mediator/special envoy to UN-led peace processes.
Read more on the action plan
Peace Agreements that contain at least one reference to women or gender have indeed increased since the adoption of resolution 1325 (2000)—from 11 per cent to 27 per cent.
However, a study by UNWomen establishes that agreements resulting from processes in which the UN was not involved are more likely to mention women or gender than those in which the UN was a third-party to the peace talks.


Read more on UNWomen

More information on PeaceWomen theme Peace Processes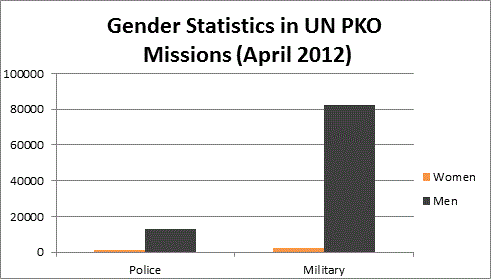 Resolution 1325 called for: "Recognizing the urgent need to mainstream a gender perspective into peacekeeping operations, and in this regard noting the Windhoek Declaration and the Namibia Plan of Action on Mainstreaming a Gender Perspective in Multidimensional Peace Support Operations (S/2000/693)"
Out of 17 Peacekeeping missions in the world in 2012, only 9 have Gender Advisors.
Read more on Gender Advisors in UN Peacekeeping missions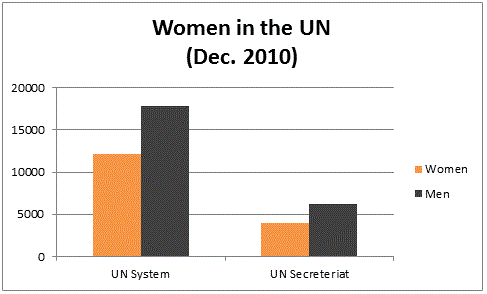 During the period 2000-2010 the proportion of women increased by 6.9 % in the UN system and 3.3 % in the UN Secretariat
It is now more dangerous to be a woman than to be a soldier in modern conflict. — Maj. Gen. Patrick Cammaert, 2008.
Globally, up to six out of every ten women experience physical and/or sexual violence in their lifetime. By looking at the below pair of maps, one can make the conclusion that there is a link between weapons and women's physical insecurity. There are approximately 900 million weapons in the world today and 75% of the world's weapons are in the hands of individuals. Small and light weapons are used both by governmental and non-governmental to threaten, hurt and kill women.
Women's Physical Security & Military spending figures by country, % of GDP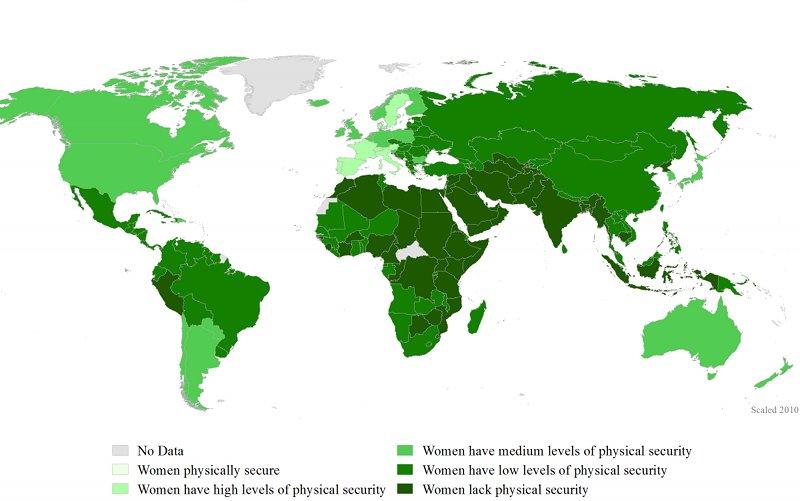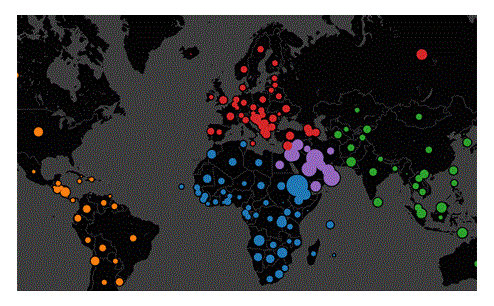 Source:Stockholm International Peace Research Institute (SIPRI)
For further information on the link between or gender and military expenditures read WILPF's "You get what you pay for!"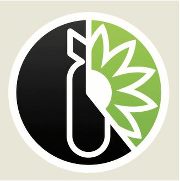 Or visit Reaching Critical Will
In many conflict and post-conflict settings, rape is used to brutalize and humiliate civilians, as a weapon of war and political power and as a tactic in campaigns of ethnic cleansing.
Violence against women during or after armed conflicts has been reported in every international or non-international war-zone, including Afghanistan, Burundi, Chad, Colombia, Côte d'Ivoire, Democratic Republic of the Congo, Liberia, Peru, Rwanda, Sierra Leone, Chechnya/Russian Federation, Darfur, Sudan, northern Uganda and the former Yugoslavia.
More information on PeaceWomen's theme Violence Against Women
One major consequence of conflict is refugee flows. Stripped of the protection of their homes, their government and often their family structure, females are often particularly vulnerable. They face long journeys as refugees into exile or living in insecure environments as IDPs. Women and girls are at risk of sexual and gender-based violence, including rape, forced impregnation, forced abortion, trafficking, and sexual slavery. More can be done to improve prevention of and response to gender-based violence in IDP communities and among refugees.

More information on PeaceWomen's theme Displacement
Female participation in economic, political and social parts of society is of utmost importance for socioeconomic development. This is particularly true in post-conflict societies, both in terms of recovering and preventing conflicts to reoccur.
Read more on women and development on UNWomen