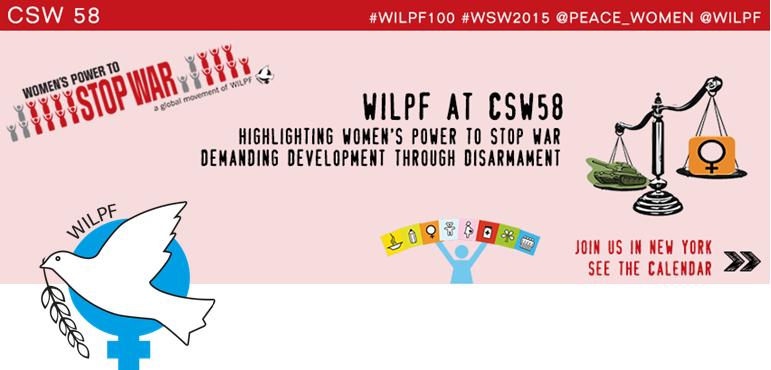 CSW58 took place at United Nations Headquarters in New York from 10 March to 21 March 2014.
WILPF Updates




The Women's International League for Peace and Freedom (WILPF) is organizing and supporting numerous key events during the Commission on the Status of Women Session 58 (CSW58). Speaking at several of our events will be WILPF members, joining us from around the world and sharing their perceptions on women's issues within their country's context. Events include panel discussions, movie screenings, and interactive dialogues. For a one-page overview of the events, click here.
Please come join us, all are welcome.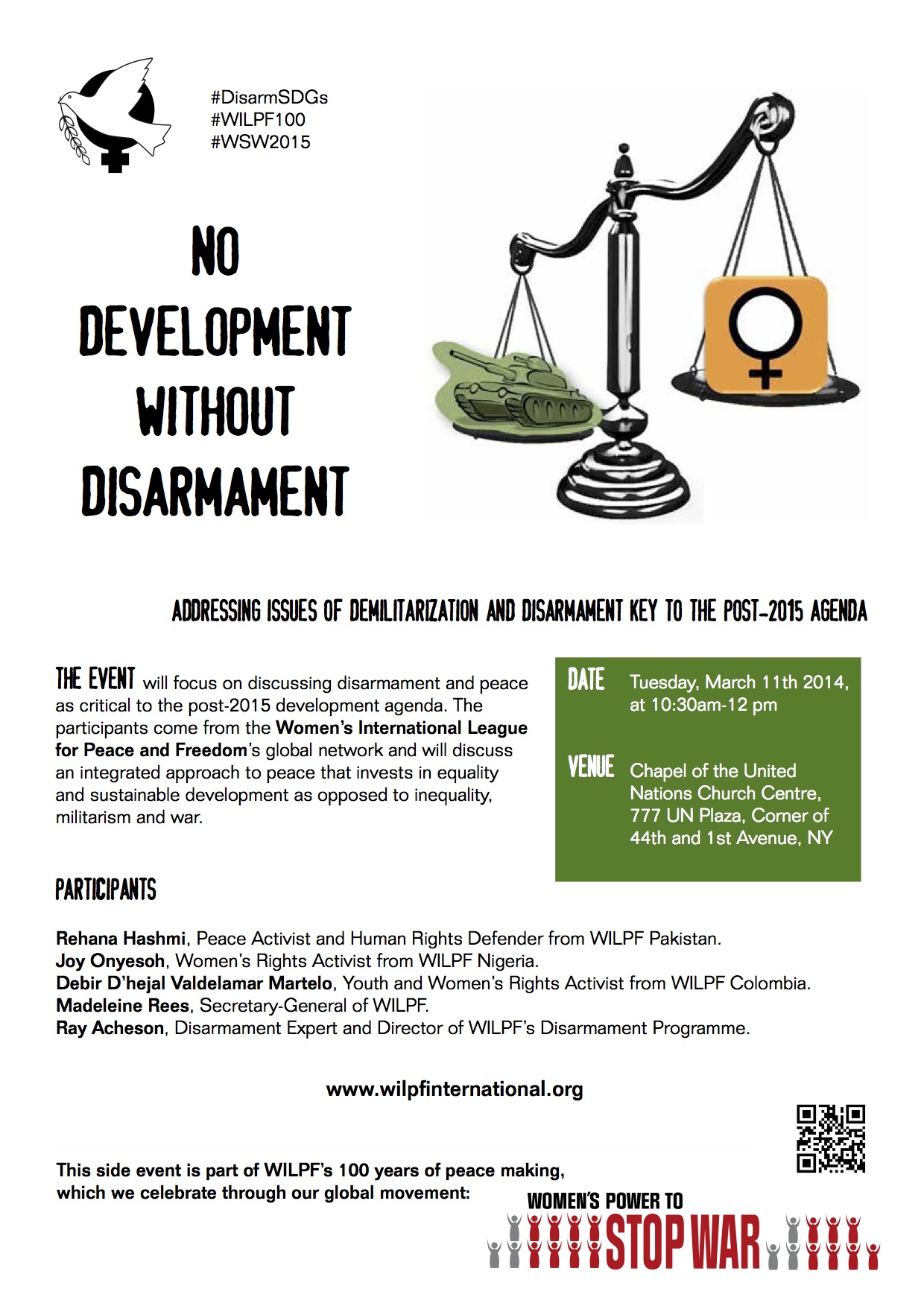 No Development without Disarmament
Tuesday March 11 at 10:30 am - 12 pm at Chapel of the UN Church Center, New York | Download flyer >>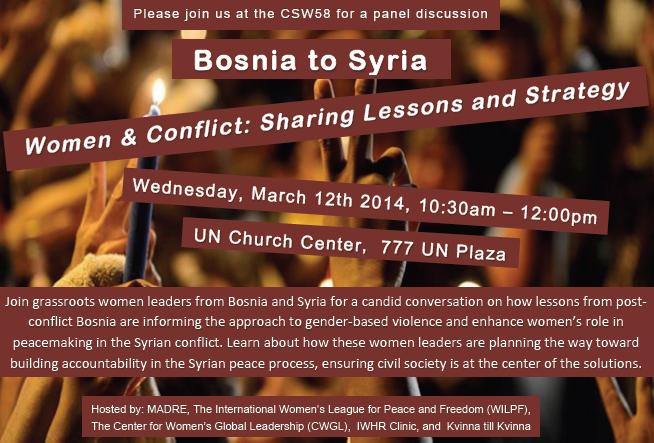 Bosnia to Syria | Women & Conflict: Sharing Lessons and Strategy
Wednesday March 12 at 10:30 am – 12 pm at Chapel of the UN Church Center, New York | Download flyer >>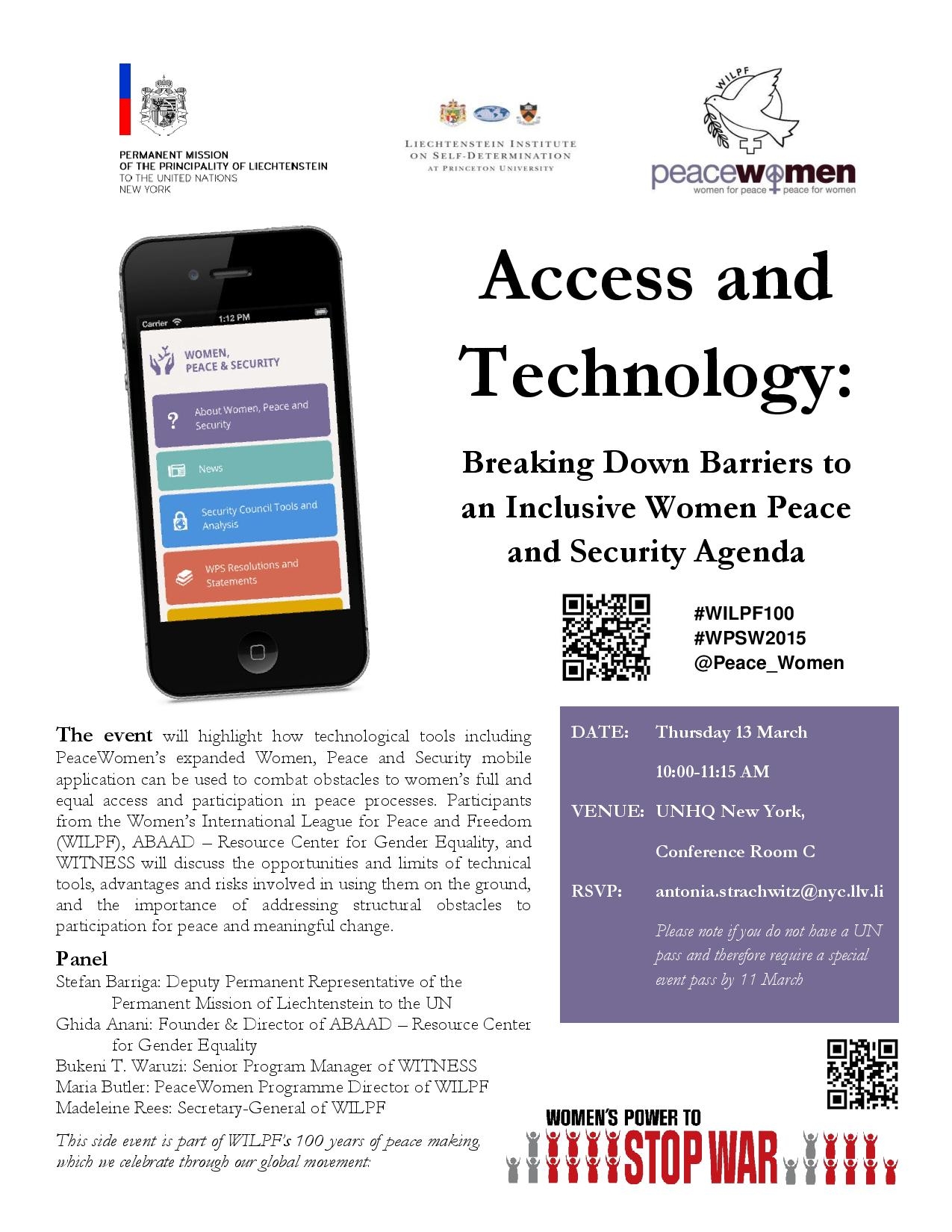 Access to Technology: Breaking Down Barriers to an Holistic Women, Peace, and Security Agenda
Thursday March 13 at 10 am – 11:15am at UN Headquarters, Conference Room C, New York | Download flyer >>
This is an RSVP-Only event! Email: antonia.strachwitz@nyc.llv.li Please note if you do not have a UN pass and therefore require a special event pass by 11 March.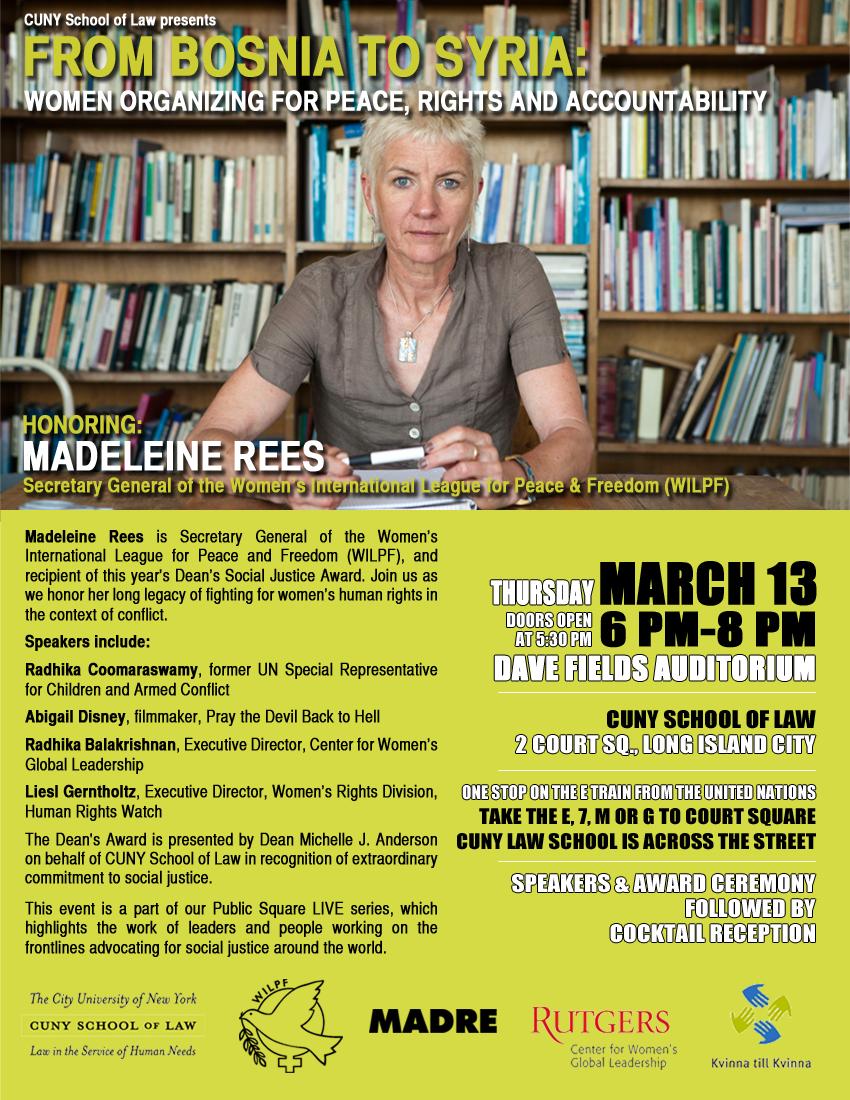 From Bosnia to Syria: Women Organizing for Peace, Rights and Accountability
Thursday March 13 at 6 – 7:30 pm at CUNY School of Law, Dave Fields Auditorium, Long Island City | Download flyer >>
WILPF Supporting or Co-Sponsored Events
Conversation Circle on Women, Peace and Security (WPS) and Violence against Women (VAW)
Monday March 10 2:30 PM - 4:00PM at the UN Church Center, 2nd Floor | Download flyer >>
Nuclear Proliferation and the Peace and Security Agenda: The challenges it poses to the MDGs for women and girls in Africa by WILPF Nigeria
Tuesday March 11 8:30 AM - 10 AM at Armenian Center, Ballroom 1, 620 2nd Avenue, New York | Download flyer >>
Women PeaceMakers' Recommendations for the Post-2015 MDG Agenda
Tuesday March 11 4:30 PM at Guild Hall Armenian Convention Center 630 2nd Avenue, New York | Download flyer >>

Women, Peace and Security: Participation in Peace Processes
Wednesday March 12 4:45 PM – 6 PM at UN Headquarters Conference Room C | Download flyer >>

Engaging Women for Resolving Conflicts, Usher in Peace, Disarmament and Development: Focus on South Asia
Thursday March 13 at 12 - 3 PM at Conference Hall, Baha'i UN Office, 866 UN Plaza | Download flyer >>
Singers in the Band: A Screening and Symposium on Military Sex Trafficking
Saturday March 15 at 11:30 AM - 4:30 PM at Fordham Law School, New York | Download flyer >>
WILPF has a huge delegation of over 60 WILPF women from around the world participating in the 58th Session of the Commission on the Status of Women. We have the following countries represented by members/partners at CSW58: Australia, Bosnia and Herzegovina, Colombia, Eritrea, India, Jordan, Nigeria, Pakistan, Nigeria, Syria, United Kingdom, United States and international staff. We are involved in many events, as listed below.
Participate in CSW58 in New York or from a distance by doing the following:
TAKE PART in the 100Women4Peace Campaign;

READ WILPF's Statement on CSW58 (click here);

FOLLOW PeaceWomen and WILPF on Twitter and retweet us;

SHARE WILPF's message and our events with your network;

ADVOCATE WILPF's message with your government;

JOIN WILPF (click here).
As we lead up to WILPF's 100th anniversary of peacemaking from a gender perspective in April 2015, we will demonstrate Women's Power to Stop War at CSW58. Our WILPF delegation of 60 women from around the world will be featured in an exciting photo gallery of 100 Women for Peace who will be sharing their support for women's power to stop war, showcased through our Instagram account, starting 8 March 2014.
Each individual will pose with the sign that features the slogan "I support women's power to stop war, because …". The end part of the slogan is completed by each person individually. These are then uploaded to Instagram and subsequently shared on our Facebook and Twitter.
We warmly welcome everyone's participation. Here are 5 simple steps on how you can get involved:

Download the sign with the slogan saying: "I support women's power to stop war, because …" here;

Complete the slogan's sentence and take the photo;

Submit the photo with your first name and country to shafferan@peacewomen.org with subject "100women4peace"

Follow the campaign using hashtag #100women4peace.


The official deadline to participate in this campaign was 22 March 2014. Please continue to send in your photos as we will continue to feature them on our Instagram account.
For more information on the campaign, visit the Women's Power to Stop War website.
WILPF and the Priority Theme

WILPF has issued its official statement on CSW 58's priority theme, "Challenges and achievements in the implementation of the Millennium Development Goals for women and girls."

"Militarization, and cultures of militarism, are double-edged swords against peace: with one hand, they exacerbate violence; with the other, they raid the coffers of peace.
The Women's International League for Peace and Freedom (WILPF) calls for a post 2015 development agenda that invests in gender equality and peace for sustainable development rather than current investments in degenerative development, inequality and violence. It is vital that we change our course to adopt an integrated approach to security that invests in equality, sustainable development and peace rather than inequality, militarism, and war. Therefore, the agenda must be deeply as well as widely inclusive of disarmament, human rights, and the women-peace-security (WPS)".
Click here for full WILPF CSW58 Statement.
PeaceWomen monitors events and resources specifically related to the women, peace and security agenda. We will share basic documents and reports, outcome documents as well as publicize parallel events.
Please click here for more information.
Resources

For further information on CSW 58, please visit

UN Women website and the NGO-CSW website.