The practice of peacekeeping began in 1948. Peacekeeping is one among a range of activities undertaken by the United Nations and other international actors to maintain international peace and security throughout the world.
The Special Committee on Peacekeeping Operations (C34) was established in 1965 under the General Assembly Fourth Committee in order to review and provide recommendations on United Nations Peacekeeping Operations. The committee consists of 144 Member States involved in peacekeeping missions and observing members such as the International Criminal Police Organization (Interpol) [1].
The Special Committee holds annual substantive debates at the end of which policy recommendations for the current UN peacekeeping missions are published.
PeaceWomen monitors debates and recommendations of the Special Committee as they relate to the women, peace and security agenda. We will share basic reports, outcome documents and will publicize parallel events.
2011 Substantive Debate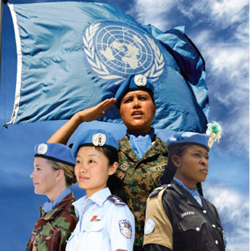 Other Information
► Peacekeeping general information
► Sexual Exploitation and Abuse
► Gender Training in Peacekeeping Missions
► Resolution Watch (Country Specific Resolutions on Peacekeeping and Political Missions)
Source: Special Committee on Peacekeeping Operations
Special Committee on Peace-keeping Operations (C34)
The Special Committee holds annual substantive debates at the end of which policy recommendations for the current UN peacekeeping missions are published. See UN Website: Special Committee on Peacekeeping Operations
View All Basic Documents & Reports

Report of the Special Committee on Peacekeeping Operations and its Working Group (A/59/19/Rev.1)


2005, Substantive, Report

, June 2011
Draft Programme of Work (A.AC.121/2011/L.2)


2011, Substantive, AGENDA

, December 9, 2010
Report of the Secretary-General: Implementation of the Recommendations of the Special Committee on Peacekeeping Operations (A/65/680)


2011, Substantive, Report

, January 4, 2011
View All NGO & Advocacy Documents

WILPF/PeaceWomen: Recommendations for the Special Committee on Peacekeeping Operations, 2011


2011, Substantive, Statement

, March 2011
NGO Working Group on Women, Peace and Security Recommendations for the Special Committee on Peacekeeping Operations 2006


2006, Substantive, Recommendations

, February 2006
Gender References in the Reports of the Special Committee of Peacekeeping Operations (C-34)


2005, Substantive, Report Compilation

, July 2005