The 56th Session of the Commission on the Status of Women (CSW) took place at United Nations Headquarters in New York Monday, 27 February to Friday, 9 March 2012. This session focused on the theme of "the empowerment of rural women and their role in poverty and hunger eradication, development and current challenges." WILPF members from several sections participated, including Pakistan, Japan, Nigeria, U.S., Sweden and Lebanon. During this year's CSW, WILPF was active at numerous events and actively voiced its ongoing recommendations for a holistic approach to conflict prevention, by way of statements and through advocacy efforts. PeaceWomen/WILPF also monitored events and resources specifically related to the women, peace and security agenda. We created a monitoring section on peacewomen.org with documents and reports, as well as civil society materials.
Our Nigerian Section held event on "Human Security for Rural Women in Nigeria - using SCR 1325. Joy Onyesoh, the WILPF-Nigeria president, highlighted the urgent need to advance the process of formulating and drafting a comprehensive Nigerian National Action Plan for implementation of SCR 1325. Sameena Nazir, WILPF Pakistan, spoke at our second panel, which was co-hosted by various CSO organisations andentitled "Food, Sovereignty, Conflict and Peace". On Friday March 2nd, US WILPF and PeaceWomen co-hosted an event recognizing the release of WILPF's report on the Civil Society Consultations on the U.S. National Action Plan on Women, Peace and Security (SCR 1325).

Below is a summary of the events that WILPF was involved in during CSW 56.

Wednesday 29 February, UN Conference Room B, UN NLB
Side Event "Human Security for Rural Women in Nigeria – Using SCR 1325"
On the third day of the CSW56, WILPF organized a panel discussion at the UN headquarters on "Human Security for Rural
Women in Nigeria - using SCR 1325" The panel consisted of Joy Onyesoh, President of WILPF-Nigeria, Adanna Baldwina, WILPF-Nigeria National Co-ordinator; Joy Ezeigbo, International Federation of Women Lawyers Nigeria, Dr. Frances Ajose, Medical
Women's Association of Nigeria; and Kachollom C.S. Best, YWCA. Mavic Cabrera-Balleza, International Coordinator, Global
Network of Women Peacebuilders, moderated the discussion.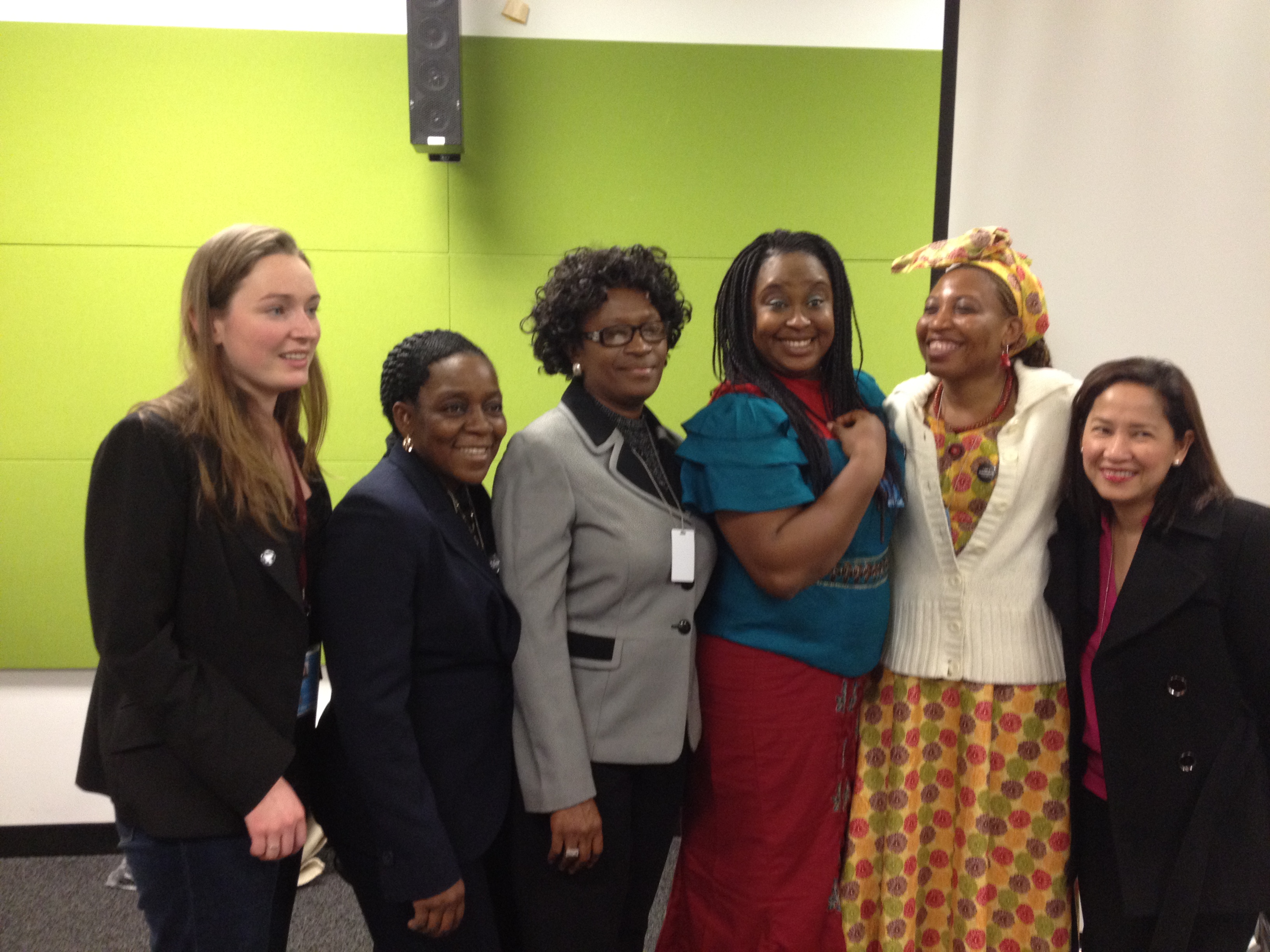 The panel discussed the current situation in Nigeria and focused on prevention of increased conflict and the promotion of human security and women's rights and participation. Special attention was given to the situation of rural women and the challenges they face, given the theme of CSW 56. Nigeria may not be classified as a situation of armed conflict but the reality presented at the panel showed otherwise. Adanna and Joy from WILPF-Nigeria underlined that there must be emphasis on real human security, including addressing corruption at every level in the country rather than the narrow focus on national security. WILPF-Nigeria presented their current and upcoming projects including: Partners of 1325 (national action plan coalition), Team 2015 (women's participation in elections), and a national conference on women's rights. In addition to discussing the current realities, panelist also outlined recommendations and actions relating to the political situation in Nigeria and SCR 1325. "We urgently need action and to move forward the process of formulating and drafting a comprehensive National Action Plan on implementation of SCR 1325 in Nigeria", stated Joy Onyesoh, WILPF-Nigeria President.
See PeaceWomen.org, Monitoring, CSW for full summary.

Thursday 1 March, Salvation Army, Main Auditorium
Side event "Food, Sovereignty, Conflict and Peace"
This event, co-hosted by WILPF, focused on the linkages between food security and conflict in several contexts. Emphasising the link between food security, war, violence and empowerment of rural women, the Panel called on those attending to explore the ways in which they as government and civil society can advance holistic peace and development. The disconnect between the rural woman's need for and ability to access resources forms the crux of the ongoing food security crisis faced by rural women and their families, in times of both war and peace.
Stressing the link between food insecurity and the under-representation of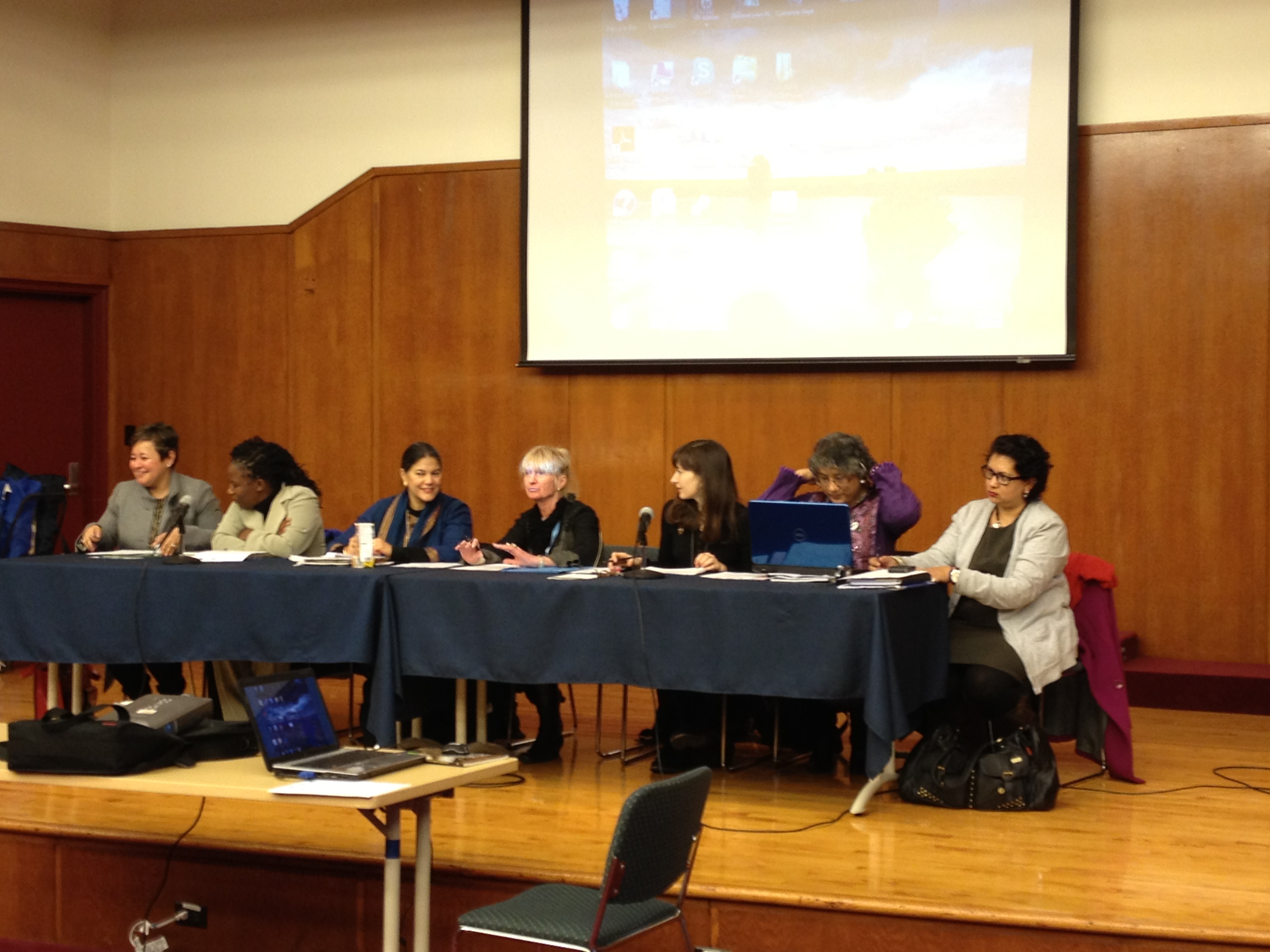 women at the policy- and decision-making level, panelists highlighted the gap between legal policy and practice regarding gender equality. Here, it was stipulated that food insecurity will continue to paralyse growth in developing nations as long as gender equality and better access to land, education and training, health services and productive resources are lacking. For societies emerging from or experiencing ongoing conflict, food security remains a key issue.
Women must be present at all stages of mediation and peace negotiation to ensure their full and equal access to resources and opportunities in the reconstruction phase, because if ignored, women --especially those widowed by the war--will continue to struggle to provide for their families, leading to stagnant growth. Accordingly, the implementation of gender responsive budgeting is essential, as is the need for government to employ strategies aimed at understanding the particular affects of conflict on rural women,
something which can be promoted through the accumulation of sex disaggregated data. One key challenge to achieving food security in Pakistan is the focus on border security as the only security challenge. This militarized definition of security cannot take into account the daily human security challenges facing the population, which is reflected, for example, by the alarming rate of malnutrition in rural Pakistan. According to Sameena Nazir, one way her organization is promoting food security in Pakistan is by organizing education and training days for women on legal and human rights. In addition, WILPF Pakistan continues to lobby the Pakistani Government to prioritize issues of gender and human security as a means to achieving national security. Finally, the panel emphasized that food and peace security are not mutually exclusive and that rural women can be catalysts for peace and food security in their communities if only government and civil society institutions commit to adequately supporting their needs.

Saturday 25 February - Friday 1 March
WILPF U.S. - Practicum and Local2Global
WILPF U.S. was able to bring two special delegations to the CSW this year. The delegation enrolled through the Practicum in Advocacy at the United Nations, co-sponsored by the Center for Women's Health and Human Rights at Suffolk University and the National Women's Studies Association, included 20 women from 18 colleges and universities located in 13 states with 8 different countries of birth. This highly competitive educational program is building the next generation of WILPF activists, and all participants receive coaching in lobbying, networking and campaign strategy.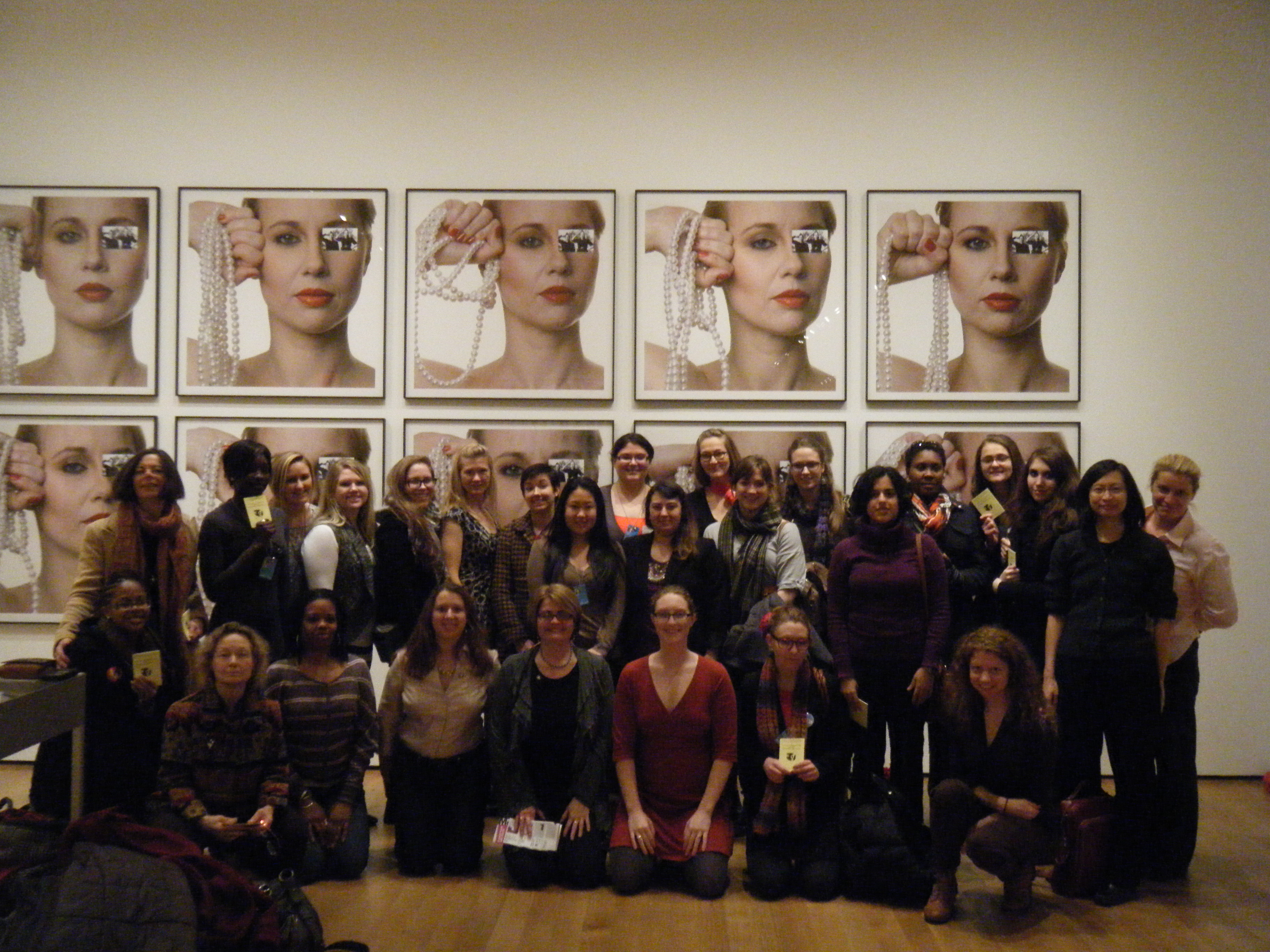 In addition, WILPF U.S. brought a delegation of 8 experienced WILPF activists to the CSW for a week-long immersion in the structures and "language" of the United Nations as part of the Local2Global program, underwritten by a very special WILPF donor. In addition to supporting international networking, delegates in the Local2Global program make a commitment to sharing information gained at the CSW and its parallel events with WILPF members in their hometowns and throughout the section. The Local2Global program is in its second year; the Practicum in its fifth. Outreach for both programs begins in September. WILPF's ability to host large delegations of members at the CSW and other U.N. events is strained by continuing restrictions on the number of delegates that are allowed each accredited NGO. Passes were obtained with special assistance from the Joan Kroc Institute for Peace and Justice and Physicians for Human Rights.

Friday 2 March, Vermillion Restaurant, 480 Lexington Av
Reception: The US NAP and WILPF Report
On Friday, March 2, WILPF U.S. organized an event recognizing the release of the U.S. National Action Plan on Women, Peace and Security (SCR 1325) and celebrating the publication of WILPF's report on the Civil Society Consultations held during the drafting period. Charlotte Bunch and Ambassador Anwarul Chowdhury joined PeaceWomen and WILPF U.S. in celebrating the launch of WILPF's Report of the Civil Society Consultations on the Development of the U.S. National Action Plan on Women, Peace and Security (UNSCR1325) at a cocktail reception held at the Vermilion restaurant in New York City. Ms. Bunch's remarks focused on the power of the report to unleash pent-up activism towards U.S. ratification of CEDAW and in favor of a re-centering of U.S. national security strategy toward meeting human needs. Ambassador Chowdhury expressed his hopes the
the U.S. would use its commitment to SCR 1325 to leverage similar commitments in other countries where the U.S. funds development work. Lastly, Maria Butler, Project Director of PeaceWomen Project, made some positive concluding remarks recognizing the high number of young women activists attending the reception this evening.

Tuesday 28 February, Dag Hammarskjöld Auditorium UN
Film screening "Women, War and Peace – Pray the Devil back to Hell"
Maria Butler, PeaceWomen Project Director, WILPF, moderated a discussion with the producer of the documentary Pray the Devil Back to Hell, Abigail E. Disney. Pray the Devil Back to Hell chronicles the remarkable story of the courageous Liberian women who came together to end a bloody civil war and bring peace to their shattered country. After the film screening Maria asked Abigail to explain how the film evolved during the time they spent in Liberia, underlining the striking and inspirational strength of the women shown in interviews and film clips. Almost all footage used in the film came from private cameras even though several major news bureaus attended the peace talks but failed to properly archive their footage. Leymah Gbowee, featured in the film as one of the main activists, won the Noble Peace Prize in 2011 and Abigail explained how Ms. Gbowee's work continues. The documentary is one of five films in a PBS television series titled Women, War and Peace.