United Nations Headquarters, New York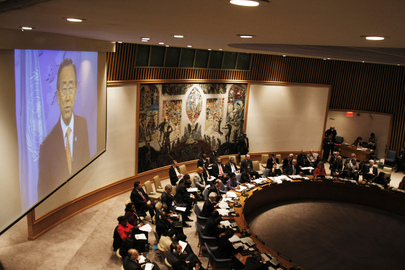 Ninety speakers addressed the UN Security Council during the Open Debate on Women, Peace and Security, marking the tenth anniversary of resolution 1325.The open debate provided Member States the opportunity to articulate forward-looking, time-bound, and measurable commitments to implementing SCR 1325. Despite this explicit call to submit commitments, the majority of member states opted out, referring to their 'commitment' to support 1325, rather than seizing the opportunity to move beyond the realm of rhetoric into the arena of action. In this regard most statements were ineffective with only a small number of Member States making noteworthy commitments. (See the commitment theme below.) Among others these included Austria, Uganda, Nepal, Norway, and the U.S. The U.S. and twenty-four other Member States committed to establishing or furthering national and gender action plans. (See the Member State implementation theme below.)
As is customarily, the Council reviewed the latest report by the Secretary-General on Women, Peace and Security, presented by Michelle Bachelet (her first appearance before the Council as head of the new entity, UN Women).
The closed negotiation of the council resulted in the adoption of the Presidential Statement (a non-binding political statement), which reiterated the Council's position and intentions on women, peace and security. Importantly, the statement expressed support for taking forward the Secretary-General's 26 indicators (contained in the annex of the SG Report and mandated by OP 17/1889). Over half of the Member States present- also signaled their support in their statements to the Council. (See statement extracts below) Among its requests in the Presidential Statement, the Council called for annual reporting on women, peace and security and for the 2011 report to include a strategic framework to guide UN implementation. The Council further expressed its intention to convene a High-level Review in 2015
With the paired adoption of indicators for SCR 1325 and underwhelming Member State commitments, October 26, 2010 fell in place with the first decade of SCR 1325, what Thelma Awori (representative of Civil Society) described as "years of preparation, of building awareness and putting in place the structures and the tools". She urged that the second, forthcoming decade of resolution 1325 be a "Decade of Action".
See the full summary here.
All statements and thematic analysis are posted below. The UN Press Release of the Open Debate can be viewed here.