On the afternoon of December 16th and carrying into the morning of December 17th, the Security Council held an open debate on Sexual Violence in Conflict. Noting that sexual violence during armed conflict is systematic, rampant, and widespread, the Security Council began the debate with the unanimous adoption of a new resolution, Resolution 1960 (2010). This new resolution creates institutional tools and teeth to combat impunity and outlines specific steps needed for both the prevention of and protection from sexual violence in conflict.
The passing of SCR 1960 is a significant event in that it builds on and deepens the WPS agenda by creating institutional tools to combat impunity. The new "naming and shaming" listing mechanism mandated in the Resolution is a step forward in bringing about justice for victims and a recognition that sexual violence is a serious violation of human rights and international law. However for now, listing is only limited to situations on the Security Council's agenda.The Resolution was negotiated under the US Presidency (as were both SCR 1820 & 1888), and it covers the main recommendations in the Secretary-General's report (S/2010/604). The Report is very well written and detailed with concrete examples and policy recommendations (attached above).
SCR 1960 also sends a direct political message that there are consequences for sexual violence including: listing in Secretary-General's annual reports, referrals to UN Sanctions Committees and to the ICC, international condemnation, and reparations. This focus on ending impunity and prosecuting offenders is critical in bringing justice to past crimes and deterring future acts of brutality. Monitoring and data collection is also an important tool for the Security Council to employ, and the Resolution responds to the call in the Report to create a new monitoring arrangement with the additional emphasis on analysis (SCR 1960, OP 8; Report recommendation 46 e).
43 speakers addressed the Council on this important occasion. The Special Representative of the Secretary-General on Sexual Violence in Conflict (SRSG), Margot Wallström, made a comprehensive and substantive statement to the Council remarking, "long after the guns fall silent, the consequences of rape remain." She emphasised the imperative to ensure that conflict-related sexual violence no longer goes unreported, unaddressed or unpunished. The Secretary-General focused on ending impunity and using the new list of perpetrators as giving the Council the means and the mandate to act.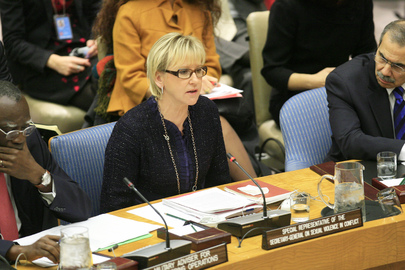 See more details of the Resolution and Debate here.