On June 24th, the UN Security Council held a day-long debate on Sexual Violence in Conflict. The Secretary-General Ban Ki-moon and the Special Representative on Sexual Violence in Conflict Zainab Bangura briefed. Jane Anywar, a Ugandan lawyer representing the Women's Initiatives for Gender Justice, spoke on behalf of civil society. Actress and activist Angelina Jolie spoke in her capacity as the Special Envoy of the UN High Commissioner for Refugees (UNHCR). The meeting was presided by the UK Foreign Secretary William Hague.

The meeting resulted in unanimous adoption of a resolution on Sexual Violence in Conflict (S/RES/2106) under the Women, Peace and Security agenda. The debate featured over 50 statements, including the statements made on behalf of the European Union and the African Union. Overall, the speakers focused on justice and the necessity to hold perpetrators accountable for their action. The frequently mentioned fragile states were Syria, Mali, and the DRC.
Resolution 2106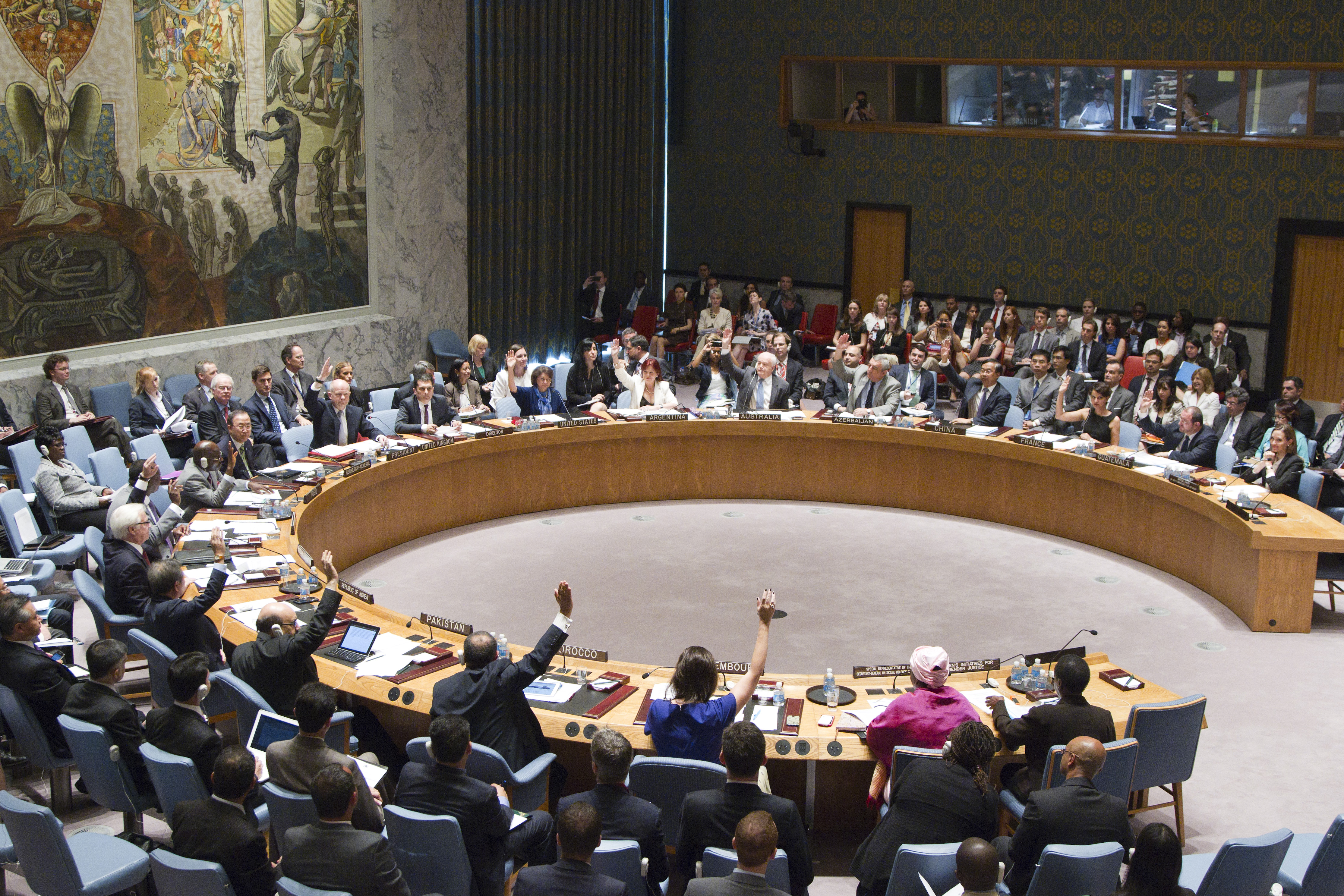 Resolution 2106 is primarily focused on further operationalizing current obligations, rather than on creating new structures/initiatives. Specifically, the resolution refers to the mechanism created within the previous resolution 1888 (2009), 1889 (2009) and 1960 (2010) and includes, among others, the Team of Experts on the Rule of Law and Sexual Violence in Conflict, Women's Protection Advisers (WPA) and the Monitoring, Analysis and Reporting Arrangements (MARA). Resolution 2106 also stresses the importance of a pre-deployment training on sexual violence for the UN peacekeeping personnel.
We welcome language on women's participation: in contrast to the earlier resolutions on sexual violence in conflict (1820 (2008), 1888 (2009), 1960 (2010)) in which the emphasis on women's empowerment and gender equality was notably weak, Resolution 2106 includes some language on these issues, for instance pp. 1 "stresses women's participation as essential to any prevention and protection response".

However, there are a number of areas in Resolution 2106 that could be stronger, inter alia language on the Arms Trade Treaty, and language on prevention.
Read more about Resolution 2106>>>
Women's Participation and Gender Equality
Women's participation was overlooked by many speakers. Neither the Secretary-General, nor his Special Representative Bangura made substantial contribution in this regard. The civil society speaker Anywar and the Special Envoy Jolie did not mention the necessity of women's agency in combating sexual violence, either. However, the statements by Maria Cristina Perceval (Argentina) and Najat Vallaud-Belkacem (France) deserve particular attention as good examples of employment of language on gender equality. Both speakers recognized the root causes of sexual violence in unequal gender power relations and the perception of woman as man's inferior. Other countries that mentioned the necessity of women's empowerment to put an end on sexual violence included among others: Australia, Republic of Korea, Pakistan, Switzerland, Brazil, Netherlands and Canada.
Conflict Prevention and the Arms Trade Treaty
Conflict prevention was emphasized by several states as the key to combat conflict related sexual violence (Australia, Morocco, Switzerland, Slovakia, Brazil, Senegal). However, the recently adopted Arms Trade Treaty that included a gender criterion and highlighted the link between access to weapons with sexual-gender based violence in conflict and postconflict settings, was mentioned only by a few countries (France, Argentina, Ecuador, Sweden, Lithuania and Netherlands).
Justice
The Secretary-General's Special Representative on Sexual Violence in Conflict Bangura, noted that it is still largely "cost-free" to rape a woman, child or man in conflict. The main focus of the debate was, therefore, on the role of justice in fighting impunity among the perpetrators.
Access to justice is crucial for rebuilding post-conflict societies successfully as well as for preventing these crimes in the future. Resolution 2106 and the speakers' statements sent a clear message that perpetrators of sexual violence have to be held accountable for their action and that impunity must no longer be tolerated. Moreover, there must be no amnesty provisions for the perpetrators. While this is important, it is critical to ensure that collecting data and ensuring retribution for violators are conducted in ways that are survivor centered and ensure women's equal human rights and participation.
The Council's members discussed different justice mechanisms both at national and international levels. Most speakers stressed that protection from sexual violence is primarily the responsibility that states should bear. The UN system and the Security Council in particular should, however, support national governments in strengthening accountability mechanisms at national level.
Other
The resolution calls for recognizing this work and supporting local civil society networks in their efforts to provide services to survivors of sexual violence. However, we would have preferred stronger recognition of civil society, including women's organizations, as key in preventing the violence from breaking out in the first place.
In summation, because sexual violence in conflict is a failure to implement all elements of the full Women, Peace and Security agenda, we take this opportunity to remind states that it is critical to address root causes of militarized inequality to avoid Band-Aid solutions.


Webcast and links