PeaceWomen & the UN: 69th Session of the General Assembly
The 69th Session of the General Assembly commenced on Tuesday, September 16, 2014. The General Debate on the theme, "Delivering on and Implementing a Transformative Post-2015 Development Agenda" will take place between September 24 - 30, 2014.
As usual, PeaceWomen will monitor all statements made in the debate for references to gender and Women, Peace and Security. For more information, please visit here.
Global Summit to End Sexual Violence in Conflict
In London, from June 10-13th, Foreign Secretary William Hague and Angelina Jolie, Special Envoy for the UN High Commissioner for Refugees, co-chaired the largest global meeting on the issue of sexual violence in conflict ever convened. Alongside invited governments, legal, military and judicial practitioners, representatives from multilateral organizations, NGOs and civil society, WILPF was there in force! As the longest serving women peace movement, we highlighted the silence that exists on weapons and profits made from sexual violence; and brought attention to the fact that ending violence and eliminating its causes is a critical element in preventing conflict and sexual violence. WILPF called attention to three of these root causes of conflict during our events at the Summit: patriarchy, armament, and exclusion. The three events that reflected these causes were:
1) "The Whistleblower" film screening with a discussion about exploitation and trafficking;
2) Panel discussion on the impact of escalating violence on the lives of women in Syria;
3) Panel discussion on gender and war -- impact and solutions.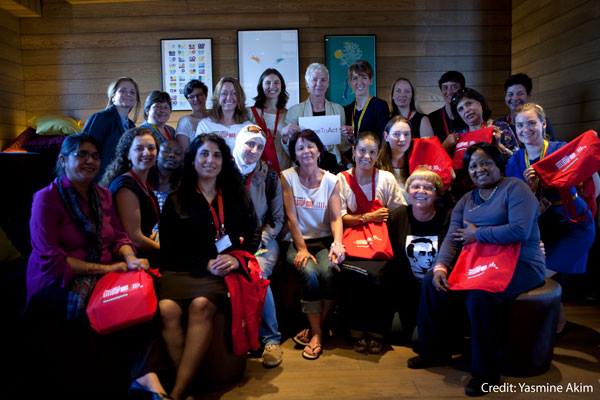 To find out more about WILPF at the summit, click here
***
Follow PeaceWomen on Twitter
Our New and Revised Women, Peace and Security Mobile Application is Out Now!
Click here to find out more


On October 18th 2013, the UN Security Council unanimously adopted a new resolution on women, peace and security (S/RES/2122) which is the seventh resolution under the Women, Peace and Security agenda.Read more about the debate and resolution on PeaceWomen's Debate Watch here.
***
The PeaceWomen Programme promotes the role of women in preventing conflict, and the equal and full participation of women in all efforts to create and maintain international peace and security. PeaceWomen monitors the UN Security Council, the UN system, and provides a hub of information sharing on women, peace and security. We are a project of Women's International League for Peace and Freedom (WILPF), the oldest women's peace movement in the world.
PeaceWomen advances our mission by monitoring and advocating for the rapid and full implementation of the UN Security Council Resolutions on Women, Peace and Security and related women, peace and security commitments - including Security Council Resolutions 1325 (2000) and subsequent resolutions.