What's new?
Call for Applications!

The 58th Session of the Commission on the Status of Women (CSW58) took place at United Nations Headquarters in New York from 10 March to 21 March 2014. WILPF had a huge delegation of 75 WILPF women from around the world participating this year. Get the link for WILPF's Official CSW Statement and find out about the #100women4peace campaign and the summary of events here >>>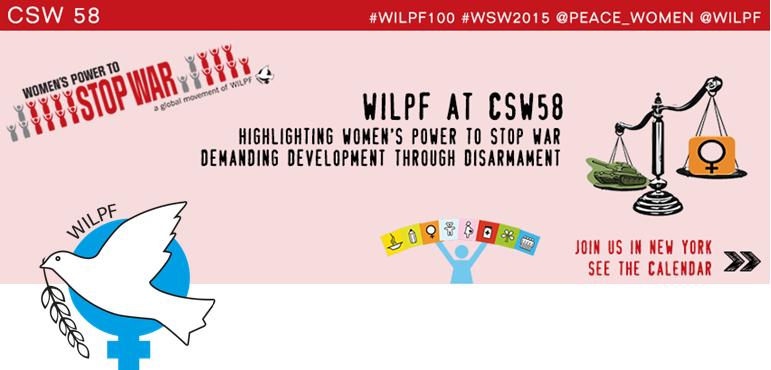 Read about PeaceWomen and WILPF work on Syria on wilpfinternational.org. Three Syrian women leaders have travelled from Damascus and Beirut to New York for a historic event this Friday. For the first time, Syrian women will brief the UN Security Council.
We are very pleased to announce the launch of our new expanded and revised mobile application on Women, Peace and Security is taking place on December 10 2013. This app has been designed to reach a wider audience and we encourage you to use it in your advocacy work relating to the Women, Peace and Security agenda. Click here to find out more >>>


On October 18th 2013, the UN Security Council unanimously adopted a new resolution on women, peace and security (S/RES/2122) which is the seventh resolution under the Women, Peace and Security agenda.Read more about the debate and resolution on PeaceWomen's Debate Watch >>>
***
The PeaceWomen Project promotes the role of women in preventing conflict, and the equal and full participation of women in all efforts to create and maintain international peace and security. PeaceWomen monitors the UN Security Council, the UN system, and provides a hub of information sharing on women, peace and security. We are a project of Women's International League for Peace and Freedom (WILPF), the oldest womens peace movement in the world.
PeaceWomen advances our mission by monitoring and advocating for the rapid and full implementation of the UN Security Council Resolutions on Women, Peace and Security and related women, peace and security commitments - including Security Council Resolutions 1325 (2000) and the subsequent resolutions.