Uganda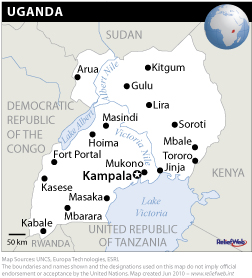 Uganda has a population estimated at 32.7 million (UN, 2009) with an area of 241,038 sq km (93,072 sq miles). The capital is Kampala. The major languages are English (official), Swahili (official), Luganda, various Bantu and Nilotic languages.

Violence in Northern Uganda perpetrated by the Lord's Resistance Army (LRA) has continued for over two decades. The violence has displaced more than 1.6 million people and tens of thousands of civilians have been killed or kidnapped. The UN estimates that the group has abducted 20,000 children. Violence against women and girls, including rape, marital rape, domestic violence, forced and early marriages, remain widespread in the country.
Uganda ratified The Convention on the Elimination of All Forms of Discrimination against Women (CEDAW) on July 22, 1985

Uganda adopted a National Action Plan on United Nations Security Council Resolution 1325 (UNSCR 1325) in December 2008. Please click here for further information

Uganda had a UN peacekeeping mandate: United Nations Observer Mission Uganda-Rwanda (UNOMUR) from June 1993 to September 1994
Sources:BBC; Amnesty International; UNIFEM
The Uganda Women's Network

(UWONET)

Strategic Initiative for Women in the Horn of Africa

(SIHA)




SIHA is advocating for social change and gender equality for men and women in the Horn of Africa and working specifically on: gender equality, eliminating violence against women and girls, promoting human rights, peace building and conflict transformation, enhancing women's leadership as well as political participation and production and dissemination of knowledge.